Brexit: David Davis consults lawyers over EU preparations for no deal


David Davis has privately suggested that EU preparations for a 'no deal' Brexit are "damaging" UK interests and spooking British businesses into moving abroad.
A leaked letter penned by the Secretary of State for Exiting the EU shows he has consulted government lawyers about European Commission "measures" which he believes could breach UK rights as a member state and put Britain at a disadvantage.
The warning comes despite the British government implicitly threatening a 'no deal' scenario itself to extract concessions from Brussels, with Theresa May having said that "no deal is better than a bad deal".
Don't believe people who say Brexit won't happen, Juncker warns
Mr Davis said there were "a growing number of instances where the UK is treated differently by EU institutions before we leave the EU" and that this was "frequently damaging for UK interests".
"The EU has adopted a number of measures that put agreements or contracts are risk of being terminated in the event of a 'no deal' scenario and/or would require UK companies to relocate to another member state," he states.
Mr Davis cited Commission advice to businesses that they might have to do certain things â€" such as regulatory compliance â€" within EU borders after Brexit. He insisted that this was not certain because of the possibility of negotiating a positive future relationship.
The minister however admitted that "chances of a successful legal challenge against the measures taken so far are low" and that there would be a "high risk politically and financially" to taking the EU to court.
The letter send from David Davis to the PM (DexEU)
In the letter, addressed to Theresa May, Mr Davis pledged to launch a counter-offensive to reassure UK businesses and also "press our case with the Commission", including Michel Barnier's negotiating team.
The missive, first obtained by the Financial Times, was also sent to Sir Jeremy Heywood, the UK's top civil servant; Sir Tim Barrow, the UK's ambassador in Brussels; Oliver Robbins, Downing Street's Brexit chief; and Philip Rycroft, the top civil servant at DExEU.
The Government has itself not shied away from the prospect of a no deal. Other than Ms May's endorsement of the plan as a fall-back, there are reports that the Government is set to appoint a dedicated "minister for no deal" â€" though the post has as yet failed to formally materialise in this week's reshuffl e.
Both the UK and EU however say they believe a deal can be struck, especially following progress on separation issues in December.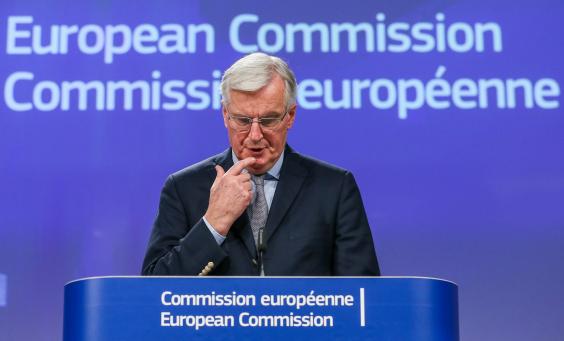 Mr Davis believes Michel Barnier, Europe's chief Brexit negotiator, has instigated the EU action (EPA)
Reacting to the letter on Tuesday, a European Commission spokesperson said: "We in the European Commission are surprised that the United Kingdom is surprised that we are preparing for a scenario announced by the UK government itself.
"After all it was Prime Minister May herself who said in her Lancaster House speech in January 2017 and repeated in her Florence speech in September that, and I quote: 'No deal for briton is better than a bad deal for Britain. It is right that the government should prepare for every eventua lity.'
"We take these words by the Prime Minister very seriously and it is therefore only natural that in this house we also prepare for every eventuality."
World news in pictures
World news in pictures
1/45 9 January 2018

Members of the South Korea delegation (R) shake hands with members of the North Korean delegation (L) during their meeting at the border truce village of Panmunjom in the Demilitarized Zone dividing the two Koreas. North and South Korea began their first official talks in more than two years, focusing on the forthcoming Winter Olympics after months of tensions over Pyongyang's nuclear weapons programme.

2/45 8 January 2018

Migrants in a dinghy are rescued by Libyan coast guards off the coast of Garabulli, east of Tripoli

3/45 7 January 2018

French President Emmanuel Macron observes a minute of silence in front of the plaque commemorating late police officer Ahmed Merabet to mark the third anniversary of the Charlie Hebdo terrorist attack, in Paris

4/45 6 January 2018

Nicolaos Solis from Greece kisses the wooden cross whi ch was thrown into the waters by Ecumenical Patriarch Bartholomew I, during the Epiphany ceremony to bless the waters at the Golden Horn in Istanbul

5/45 5 January 2018

Women mourn the death of a family member following a landslide in Kinshasa. Thirty-seven people died overnight when torrential rain and mudslides swept though shanty homes.

6/45 4 January 2018

Mourners carry the body of Palestinian Mosab al-Tamimi, 17, who was shot and killed by Israeli troops, during his funeral near the West Bank city of Ramallah

7/45 3 January 2018

People take part in pro-government rallies, Iran

8/45 2 January 2018

Indonesian bus passengers watch as Mount Sinabung spews thick smoke in Karo, North Sumatra

9/45 1 January 2018

People take part in the traditional New Year's Day swim in Scheveningen, Netherlands

10/45 31 December 2017

Fireworks explode over Sydney Harbour during New Year 39;s Eve celebrations

11/45 30 December 2017

An Indian muslim lifts a stool with a metal rod pierced through his cheeks to commemorate the anniversary of the death of Rafai Papa Miyan Sai at the Shah-E-Alam Dargah shrine in Ahmedabad

12/45 29 December 2017

A New York apartment fire killed at least 12 people, including a baby, with four more critically injured. Mayor Bill de Blasio said at a press conference from the scene that 'it is the worst fire tragedy we have seen in this city in at least a quarter century.'

13/45 28 December 2017

Afghan women mourn inside a hospital compound after a suicide attack in Kabul, Afghanistan

14/45 27 December 2017

Pope Francis greets newlyweds during his weekly general audience at Aula Paolo VI in The Vatican

15/45 26 December 2017

Rohingya refugees walk next to a pond in the early morning at the Balukhali refugee camp near Cox's Bazar, Bangladesh

16/45 25 December 2017

Members of ice swimming club "Berliner Seehunde" (Berlin Seals) take a dip in the Orankesee lake in Berlin as part of their traditional Christmas ice swimming session, in Berlin, Germany

17/45 24 December 2017

Mourners carry the body of 19-year-old Mohamed Sami al-Dahdouh, a Palestinian youth from Jabalia who was killed in clashes with Israeli forces east of Gaza City

18/45 23 December 2017

Policemen evacuate a baby after the Cagayan River swelled caused by heavy rains brought by Tropical Storm Tembin. People have died and others are missing as the storm struck the sou thern Philippines unleashing floods and landslides across a region of 20 million people.

19/45 22 December 2017

Carles Puigdemont gives a thumbs up after the Catalonia Regional Election results

20/45 21 December 2017

A white SUV sits in the middle of the road as police and emergency personnel work at the scene of where it ran over pedestrians in Flinders Street in Melbourne.

21/45 20 December 2017

This combination of pictures shows Syrians c overing one eye with their hands, in the rebel-held town of Douma, as part of a campaign in solidarity with a baby boy, Karim Abdallah, who lost an eye, as well as his mother, in government shelling on the nearby town of Hammouria.

22/45 19 December 2017

South Korean and U.S. Marines take part in a winter military drill in Pyeongchang, South Korea

23/45 18 December 2017

Belgian police officers stand guard outside the trial of Salah Abdeslam, one of the suspects in the 2015 Islamic State attacks in Paris, at a courthouse in Brussels, Belgium

24/45 17 December 2017

Members of the International Space Station expedition 54/55, Roscosmos cosmonaut Anton Shkaplerov (C), NASA astronaut Scott Tingle (R) and Norishige Kanai (L) of the Japan Aerospace Exploration Agency (JAXA) during the send-off ceremony after checking their space suits before the launch of the Soyuz MS-07 spacecraft at the Baikonur cosmodrome, in Kazakhstan

25/45 16 December 2017

The former wife of the late South African President Nelson Mandela, Winnie Mandela (R), and the candidate for the African National Congress presidency and ex-wife of the incumbent South African president, Nkosazana Dlamini-Zuma greet each other as they attend the 54th ANC National Conference at the NASRE C Expo Centre in Johannesburg on December 16, 2017. Thousands of delegates from South Africa's ANC party gathered on December 16, 2017 for a five-day meeting to elect their new leader in a divisive race seen as a pivotal moment in the country's post-apartheid history. he winner will be well placed to be the next president, but the ANC has lost much popularity since Nelson Mandela led it to power in the euphoric 1994 election that marked the end of white-minority rule.

26/45 15 December 2017

Palestinian protesters wave the national flag during clashes with Israeli security forces near the border fence with Israel, east of Gaza City as demonstrations continue over US President Donald Trump's declaration of Jerusalem as Israel's capital

27/45 14 December 2017

Hamas supporters take part in a rally marking the 30th anniversary of the founding of the Islamist movement, in Gaza City

28/45 13 December 2017

Democratic candidate for US Senate Doug Jones thanks supporters as he holds his wife Louise's hand

29/45 12 December 2017

Ultra-Orthodox Jewish men gather during the funeral ceremony of prominent spiritual leader Rabbi Aharon Yehuda Leib Shteinman, who died on Tuesday at the age of 104, in Bnei Brak near Tel Aviv, Isr ael.

30/45 11 December 2017

A Palestinian protester kicks a flaming tire during clashes with Israeli forces in the West Bank city of Ramallah

31/45 10 December 2017

Demonstrators set US and Israeli flags on fire during a protest against Donald Trump's recognition of Jerusalem as Israel's capital, in Istanbul

32/45 9 December 2017

People gather to watch the bikers' procession during the funeral ceremony in tribute to late Frenc h singer Johnny Hallyday in Paris

33/45 8 December 2017

A Palestinian protester uses a sling to hurl stones towards Israeli troops

34/45 7 December 2017

Firefighters monitor a section of the Thomas Fire along the 101 freeway, north of Ventura, California.

35/45 6 December 2017

Palestinians burn an Israeli and a U.S. flag during a protest against the U.S. intention to move its embassy to Jerusalem and to recognize the city of Jerusalem as th e capital of Israel, in Gaza City

36/45 5 December 2017

Former Georgian President, Mikheil Saakashvili, flashes a victory sign after he was freed by his supporters in Kiev

37/45 4 December 2017

A man exercises in a park on a winter morning in Kolkata, India

38/45 3 December 2017

A supporter of Salvador Nasralla, presidential candidate for the Opposition Alliance Against the Dictatorship, puts a balloon on the shield of a soldier in a protest while the country is still mired in chaos over a contested presidential election in Tegucigalpa, Honduras

39/45 2 December 2017

A man dressed as Santa Claus skiis down a mountain during the Saint Nicholas Day at the Alpine ski resort of Verbier, Switzerland

40/45 1 December 2017

A nurse takes blood for a HIV test for French President Emmanuel Macron as he visits the Delafontaine Hospital on World Aids Day

41/45 30 November 2017

An activist pours gasoline as an effigy of President Rodrigo Duterte and U.S. President Donald Trump burns during a protest action against Duterte's plan to set up a Revolutionary Government, along a street in metro Manila, Philippines

42/45 29 November 2017

South Korea's Hyunmoo II missile is fired during an exercise at an undefined location in the east coast of South Korea

43/45 28 November 2017

People fall as police fire tear gas to try control the crowd trying to force their way into Kasarani Stadium to attend the inauguration of President Uhuru Kenyatta in Nairobi

44/45 27 November 2017

Rohingya refugee Amina Khatun, 55, rests at the bank of the Naf river after crossing it on an improvised raft to reach Bangladesh, in Teknaf. Two of her sons were killed by gun fire when her village was attacked by Myanmar military, she says

45/45 26 November 2017

Mount Agung volcano is seen spewing smoke and ash in Bali
There are no dates yet scheduled for future set-piece talks this year; both sides hope to agree details of a transition period before March, where they will then hope to move to talks on the framework for trade and the future relationship.
T he EU is insisting that the deal be wrapped up by October to give the European Parliament and other bodies time to scrutinise, formalise, and approve the deal in time for the UK's departure under Article 50 in March 2019.
More about:
Brexit
David Davis
Reuse contentSource:
Google News United Kingdom
|
Netizen 24 United Kingdom