Thailand expected to introduce same-sex civil partnerships


Thailand could become the first country in South East Asia to legalise civil partnerships, with the introduction of a landmark bill that could give same-sex couples the same legal rights as married heterosexual couples.
The proposed law would enable them to register as "life partners".
It is being drafted by a subcommittee of Thailand's Justice Ministry that is scheduled to convene on 4 May, before the Justice Minister presents the final draft to the cabinet for approval.
The countries where it's illegal to be LGBT
Ratthanan Prapairat, 38, who has been with his male partner for over 20 years, was hopeful that the law would pass.
He told Thailand's The Nation newspaper that the proposed changes were "a must-have that should have been in place years ago as it would be very helpful in protecting the righ ts of same-sex couples".
Mr Prapairat, who runs a clothing business with his partner, with whom he shares a house, said if th new law was implemented, they would definitely register their partnership.
It is not the first time the Thai government has proposed legalising same-sex marriage, but all previous attempts have been unsuccessful. The last was interrupted by the military coup in 2014.
As a result, some campaigners are sceptical that the law will change this time.
World news in pictures
World news in pictures
1/50 27 April 2018

North Korean leader Kim Jong Un and South Korean President Moon Jae-in raise their hands after signing on a joint statement North Korean leader Kim Jong Un, left, and South Korean President Moon Jae-in raise their hands after signing on a joint statement at the border village of Panmunjom in the Demilitarized Zone, South Korea. The Korean War will be formally declared over after 65 years, the North and South have said. At a historic summit between leaders Kim Jong-Un and Moon Jae-in, the neighbouring countries agreed they would work towards peace on the peninsula with a formal end to the conflict set to be announced later this year. The pair agreed to bring the two countries together and establish a "peace zone" on the contested border.

2/50 26 April 2018

Women hold portraits of their relatives, who are victims of the Chernobyl nuclear disaster, during a commemoration ceremony in Kiev, Ukraine.

3/50 25 April 2018

Rohingya refugees gather in the "no man's land" behind Myanmar's boder lined with barb wire fences in Maungdaw district, Rakhine state bounded by Bangladesh. Myanmar government said on April 15, it repatriated on April 14 the first family of Rohingya out of some 700,000 refugees who have fled a brutal military campaign, a move slammed by a rights group as a PR stunt ignoring UN warnings that a safe return is not yet possible.

4/50 24 April 2018

President Donald Trump, French President Emmanuel Macron, first lady Melania Trump and Brigitte Macron hold hands on the White House balcony during a State Arrival Ceremony in Washington.

5/50 23 April 2018

A boy walks on a pile of garbage covering a drain in New Delhi.

6/50 22 April 2018

Newly ordained priests lie on the floor as Pope Francis leads a mass in Saint Peter's Basilica at the Vatican.

7/50 21 April 2018

South Koreans che er during the welcoming event for the inter-Korean summit between South Korea and North Korea in Seoul. The inter-Korean summit is scheduled on April 27, 2018 at the Joint Security Area in Panmunjom, agreed by South Korean President Moon Jae-in and North Korea's leader Kim Jong-un.

8/50 20 April 2018

A Palestinian slings a shot by burning tires on the Israel-Gaza border, following a demonstration calling for the right to return. Palestinian refugees either fled or were expelled from what is now the state of Israel during the 1948 war.

9/50 19 April 2018

Outgoing Cuban President Raul Castro raising the arm of Cuba 39;s new President Miguel Diaz-Canel after he was formally named by the National Assembly, in Havana. A historic handover ending six decades of rule by the Castro brothers. The 57-year-old Diaz-Canel, who was the only candidate for the presidency, was elected to a five-year term with 603 out of 604 possible votes in the National Assembly.

10/50 18 April 2018

Turkey's President Recep Tayyip Erdogan announces early presidential and parliamentary elections for June 24, 2018, at the Presidential Palace, in Ankara. Erdogan announced the snap elections, originally scheduled for November 2019, in a move that will usher in a new political system increasing the powers of the president. He said the new system needed to be implemented quickly in order to deal with a slew of challenges ahead, including Turkey 's fight against Kurdish insurgents in Syria and Iraq.

11/50 17 April 2018

European lawmakers raise placards reading "Stop the War in Syria" in protest against airstrikes launched by the US, Britain and France in Syria last week criticizing the legitimacy of the operation, as French President Emmanuel Macron delivers his speech at the European Parliament in Strasbourg. Macron is expected to outline his vision for the future of Europe to push for deep reforms of the 19-nation eurozone and will launch a drive to seek European citizens' opinions on the European Union's future.

12/50 16 April 2018

Peo ple participate in a protest against the rape of an eight-year-old girl in Kathua near Jammu, and a teenager in Unnao, Uttar Pradesh state, in Bangalore, India

13/50 15 April 2018

Fireworks are set off as the final performance takes place during the Closing Ceremony for the 2018 Commonwealth Games.

14/50 14 April 2018

The wreckage of the Scientific Studies and Research Centre compound in the Barzeh district, north of Damascus, after the United States, UK and France launched strikes against Syrian President Bashar al-Assad's regime early on April 14 in response to an alleged chemical weapons attack after mulling milit ary action for nearly a week. Syrian state news agency SANA reported several missiles hit a research centre in Barzeh, north of Damascus, "destroying a building that included scientific labs and a training centre"

15/50 13 April 2018

Indian activists gather to show support for the chairperson of the Delhi Commission for Women Swati Maliwal, who is on a hunger strike against the alleged rapes in Uttar Pradesh, Jammu and Kashmir, in New Delhi, India. According to news reports Maliwal is sitting on hunger strike demanding that authorities take strict actions against the alleged rapists.

16/50 12 April 2018

Shi' ;ite pilgrims carry a symbolic casket outside Imam Moussa al-Kadhim's shrine to mark the anniversary of his death in Baghdad, Iraq

17/50 11 April 2018

Seasonal winds washed tons of debris ashore at Matahari Terbit beach, near Sanur, Bali, Indonesia.

18/50 10 April 2018

Syrian onlookers gather around rescue teams clearing the rubble at the site of an explosion of unknown origin which wrecked a multi-storey building the previous night in the war-battered country's northwestern city of Idlib. The cause of the explosion in the jihadist-held city, which killed more than a ten people and wounded 80, according to the B ritain-based Syrian Observatory for Human Rights monitoring group, was not immediately clear.

19/50 9 April 2018

Protesters try to block French gendarmes during an evacuation operation in the zoned ZAD (Deferred Development Zone) in Notre-Dame-des-Landes, near Nantes, France.

20/50 8 April 2018

Competitors cross the start line at the annual Pyongyang Marathon.

21/50 7 April 2018

The body of journalist Yasser Murtaja, 31, is carried during hi s funeral in Gaza city. He was shot by Israeli troops while reporting on Palestinian protests on the Gaza-Israel border.

22/50 6 April 2018

Supporters of the former South African president Jacob Zuma rally prior to his appearance in the KwaZulu-Natal High Court on corruption charges in Durban. Zuma, 75, arrived to face corruption charges linked to a multi-billion dollar 1990s arms deal. The graft case against him was postponed until June 8 after a brief 15-minute hearing.

23/50 5 April 2018

Palestinian protesters run during clashes with Israeli troops at Israel-Gaza border.

24/50 4 April 2018

Presidents Hassan Rouhani of Iran, Tayyip Erdogan of Turkey and Vladimir Putin of Russia pose before their meeting in Ankara.

25/50 3 April 2018

South African school children pause next to a portrait of the late South African anti-apartheid campaigner Winnie Madikizela-Mandela, wife of African National Congress leader Nelson Mandela, at her house in Soweto. South African President Cyril Ramaphosa paid tribute to Winnie, who died on April 2, saying that Nelson Mandela's former wife was a "voice of defiance" against white-minority rule.

26 /50 2 April 2018

Jewish priests and civilians take part in the Cohanim prayer during the Passover holiday at the Western Wall in the Old City of Jerusalem.

27/50 1 April 2018

Pope Francis greets the crowd at St Peter's square after the Easter Sunday Mass in the Vatican. Christians around the world are marking the Holy Week, commemorating the crucifixion of Jesus Christ, leading up to his resurrection on Easter.

28/50 31 March 2018

Mourners hold back a relative of Palestinian Hamdan Abu Amshah, who was killed along the Israel border w ith Gaza, during his funeral in Beit Hanoun town.

29/50 30 March 2018

Israeli soldiers shot tear gas grenades towards the Palestinian tent city protest commemorating Land Day. The day marks the killing of six Arab Israelis during 1976 demonstrations against Israeli confiscations of Arab land.

30/50 29 March 2018

An emotional Steve Smith is comforted by his father Peter as he fronts the media at Sydney International Airport. Steve Smith, David Warner and Cameron Bancroft were flown back to Australia following investigations into alleged ball tampering in South Africa.

< /li>

31/50 28 March 2018

French gendarmes escort the coffin of the late Lieutenant Colonel Arnaud Beltrame transported by car during a funeral procession leaving the Pantheon as part of a national tribute in Paris. The French President will lead a national commemoration to hostage-swap policeman Arnaud Beltrame killed in jihadist attack.

32/50 27 March 2018

Russian President Vladimir Putin visits a memorial made for the victims of a fire in a multi-story shopping center in the Siberian city of Kemerovo. Officials say that the fire escapes were blocked and a PA system was turned off during the fire that killed over 50 people.

< /li>

33/50 26 March 2018

At least 64 shoppers have been killed in fire at a shopping centre in Russia. A further 16 people were still missing after flames broke out at the four-storey Winter Cherry mall in the city of Kemerovo in Siberia, according to Russian Emergencies Minister Vladimir Puchkov. The fire was extinguished in the morning after burning through the night. Parts of the building were still smouldering and the floors of the cinema hall had caved in in places, another emergency official said.

34/50 25 March 2018

Syrian civilians gathering for their evacuation from the town of Arbin in the Eastern Ghouta region on the outskirts of the capital Damascus, following a deal with the regime. The deal is expected to see some 7,000 people bussed from Arbin and Zamalka towns and the district of Jobar to a rebel-dominated part of northern Syria.

35/50 24 March 2018

Students attend the 'March For Our Lives' in Washington. In the wake of the Florida attack, there has been a widespread effort to ban assault rifle.

36/50 23 March 2018

Police at the scene of a hostage situation in a supermarket in Trebes. An armed man took hostages in a supermarket in southern France, killing three and injuring about a dozen others, police said. A French minister confirmed the gunman had been shot dead by police.

37/50 22 March 2018

A boy rows his boat in the polluted waters of the Brahmaputra river on World Water Day in Guwahati, India.

38/50 21 March 2018

Kosovo's opposition lawmakers release a teargas canister inside the country's parliament in before a vote for an agreement to ratify or not a border demarcation deal signed in 2015 with Montenegro.

39/50 20 March 2018

People carrying luggage leave the Russian Embassy in London and board a van bearing diplomatic plates. Dozens of people including adults with children arrived at the Russian embassy in the morning and then left carrying luggage in vehicles bearing diplomatic registration plates. Britain last week announced the expulsion of 23 Russian diplomats over the spy poisoning row, prompting a tit-for-tat response from Moscow.

40/50 19 March 2018

The Soyuz MS-08 spacecraft is mounted on the launch pad at the Russian-leased Baikonur cosmodrome in Kazakhstan

41/50 18 March 2018

President Vladimir Putin walks out of a voting booth at a polling station during Russia's presidential election in Moscow .

42/50 17 March 2018

People take part in a pensioners protest to demand decent pensions in Barcelona. Thousands of people across the country took part in mass demonstrations called by main Spanish workers unions demanding rises of state pensions in accordance with the consumer price index

43/50 16 March 2018

Russian President Vladimir Putin visits the Almazov National Medical Research Centre in Saint Petersburg.

44/50 15 March 2018

Vladimir Putin chairs a meeting with members of the Security Council in Moscow.

45/50 14 March 2018

German Chancellor Angela Merkel is sworn in by the President of the German lower house during the government's swearing-in ceremony at the Bundestag in Berlin. Merkel, head of the Christian Democratic Party CDU, starts her fourth term as German chancellor, capping months of political uncertainty as she bartered with her rivals of the SPD to help govern Europe's top economy in a "grand coalition".

46/50 13 March 2018

Nepali students of University of Dhaka light candles in memory of the victims of the US-Bangla ai rcraft crash in Nepal, Bangladesh.

47/50 12 March 2018

Rescuers work to save passengers from a plane crash at Kathmandu airport in Nepal.

48/50 11 March 2018

French President Emmanuel Macron and his wife Brigitte Macron pose for photographs as they visit the Taj Mahal.

49/50 10 March 2018

France's far-right party Front National (FN) president Marine Le Pen applauds former US President advisor Steve Bannon after his speech during the Front National party annual congress, in Lille, northern France.

50/50 9 March 2018

A television screen showing pictures of US President Donald Trump and North Korean leader Kim Jong-Un at a railway station in Seoul.
Others have expressed concerns that, even if passed, the legislation won't meet the needs of the LGBT+ community.
"We welcome the news that Thailand has resumed drafting a bill that would allow same-sex couples to register as 'life-partners,' but we look forward to more clarity as of what these provisions will mean in reality", Lieu Anh Vu, coordinator of the Asian region of the International Lesbian Gay Bisexual Trans and Intersex Association (Ilga), told The Independent.
⠀œThere has been concern from civil society that the bill doesn't provide same-sex couples with equal protection as heterosexual couples before the law: it is important to make sure that all couples are equally recognised, and that rainbow communities are consulted in the process of preparing a law that will have an important impact on their lives."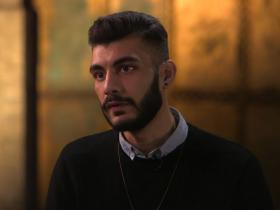 This is how to cope if you're outed before you're ready
Gender equality advocate Naiyana Supapuen noted in the The Nation that previous draft legislation "did allow same-sex marriage but then so many restrictions and conditions were present. It showed that the state still had a homophobia mindset."
While the contents of the bill are unknown, many are hailing this as an important step in the journey towards better LGBT+ equality in Thailand.
"This would be an important milestone from the government towards equal recognition in the future," Mr Vu said. "This bill will also promote understanding and acceptance of same-sex couples and of the wider rainbow families community."
More about:
LGBTI rights
LGBTQIA
Civil partnerships
Thailand
Reuse contentSource:
Google News Thailand
|
Netizen 24 Thailand