'This country has no freedom!': how Thailand's punks are railing against the junta

'This country has no freedom!': how Thailand's punks are railing against the junta Punk 'This country has no freedom!': how Thailand's punks are railing against the junta
Anger at repression is quelled under the military dictatorship â€" but the country's punk scene is turning the protest volume back up again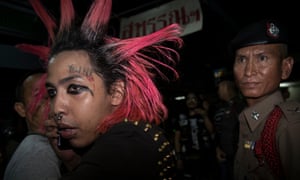 "It's been four years, motherfucker!" â€" this is how a group of Thai punks promoted their gig, earlier this month, marking the fourth anniversary of military rule in the country.
The provocative slogan, directed at junta leader Prayuth Chan-ocha, helped the event's Facebook page go viral, piquing the interest of pro-democracy activists and putting the small underground scene in the national spotlight.
A larger than usual crowd showed up at the concert, which was held at a monument commemorating student-led protests in 1973. Those protests succeeded in bringing down a despised military dictatorship â€" but only after troops opened fire on the crowds, killing at least 77.
Such atrocities are a recurring horror in Thailand, where the state also killed its own people in 1976, 1992 and in 2010, when around 90 pro-democracy "red shirt" protesters were killed during military crackdowns led by General Prayuth.
However, in 2014, Prayuth sat back and watched as rival protests against the elected government of Y ingluck Shinawatra, whom the red shirts supported, paralysed Bangkok. When he finally did intervene, it was not to support the government but to seize power himself. Although the junta has its supporters, opposition is widespread and only kept in check by oppression. Elections have been promised for 2019, but even if they do go ahead, the signs are that Prayuth is aiming to use them as a way to legitimise his power and remain in control.