Boys rescued from cave in Thailand likely to be released Thursday


The 12 boys rescued from a flooded cave in Thailand have less than a week before being released to the homes they haven't seen in almost a month.
Interested in Thailand Cave Rescue?
Add Thailand Cave Rescue as an interest to stay up to date on the latest Thailand Cave Rescue news, video, and analysis from ABC News. Thailand Cave Rescue
Officials at Chiangrai Prachanukroh Hospital said at a press conference early Saturday the boys are tentatively scheduled to be released on Thursday. The timeline would mean the first four boys would have spent 11 days in the hospital, while the second and third groups rescued would spend 10 days and nine days, respectively.
The country's minister of Public Health, Piyasakol Sakolsatayadorn, said all of the boys are healthy, gaining weight and have a high appetite.
"Laboratory results of all 13 persons are negative for dangerous infectious diseases, and they will be discharged from the hospital as soon as possible," officials said in a statement.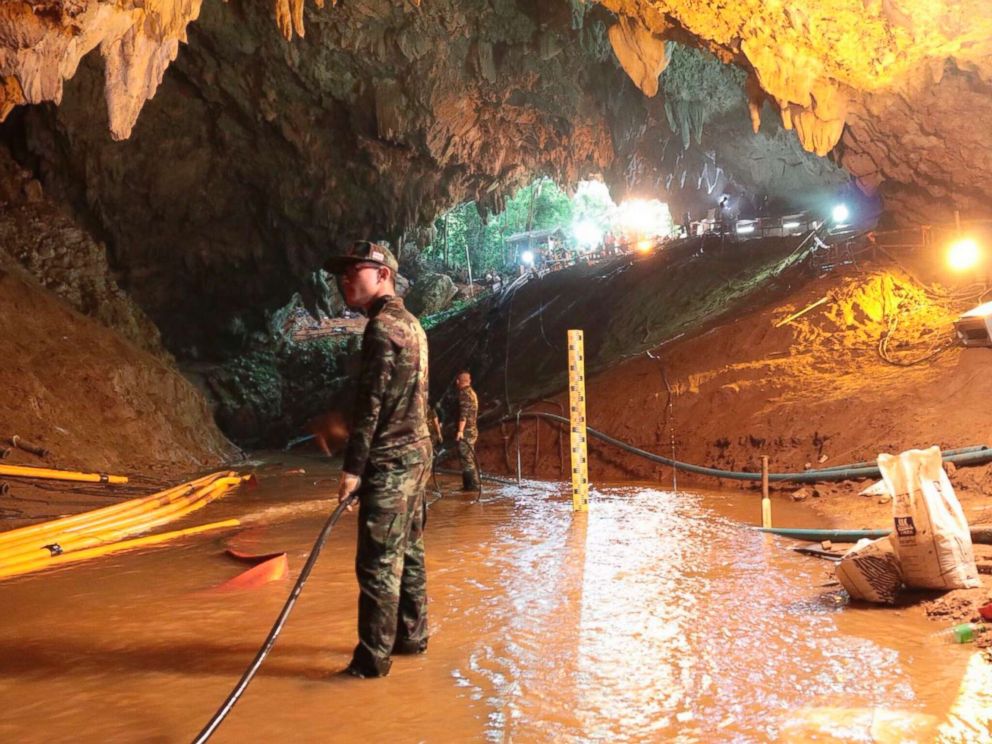 (MORE: Boys rescued from Thailand cave are steadily recovering at hospital, officials say) (MORE: British diver tells Thai boys rescued from cave to 'be careful in the future')
Family membe rs no longer need to wear surgical masks when staying with the boys and they can now stay at their bedsides, instead of only being able to view them from afar through glass -- a protection against infection instituted in the first days after their rescue.
Doctors also said they are getting ready to do another psychological exam on the boys after some spent as many as 18 days isolated in the cave. Everyone appears emotionally and mentally well, but doctors said they are most concerned about the children being able to grow up without any repercussions from their ordeal.
They would like them to get a month of relaxation and recovery at home with family and friends -- and do not want any of the boys or family members to conduct media interviews out of fear that would cause them to feel guilt or shame.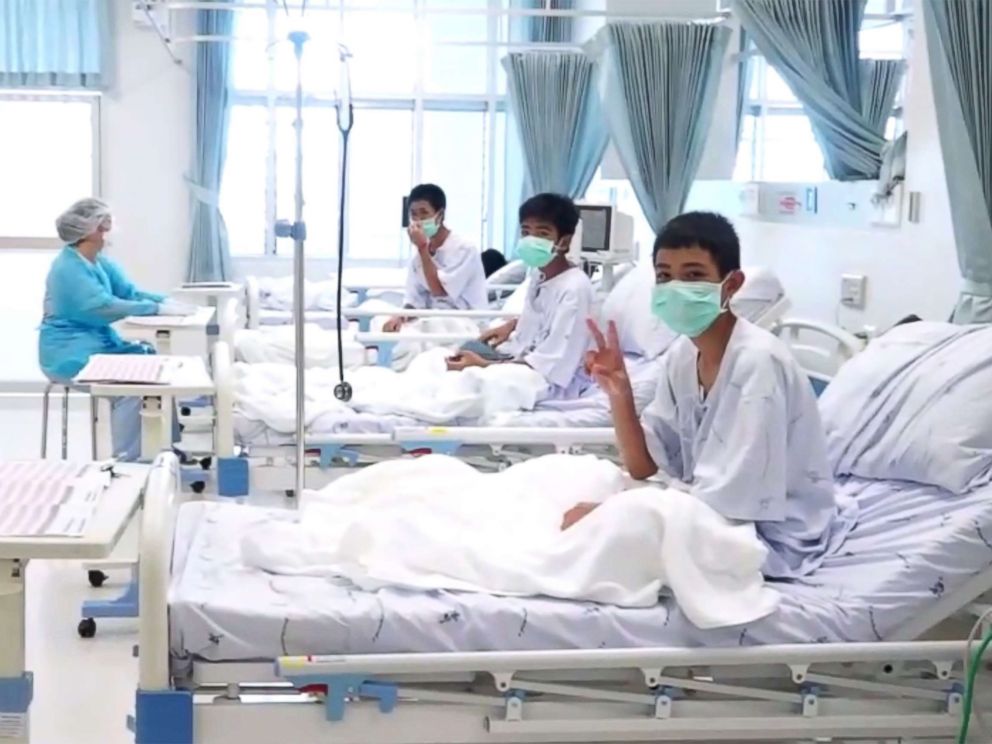 (MORE: Water rushed back into Thai cave soon after boys soccer team rescued) (MORE: With all odds against them, here's how rescuers pulled off 'miracle' Thai cave feat)
The fear extends to the team's assistant coach, who led the team into the cave and has received criticism from outsiders. The boys and their family members have generally praised the coach for keeping the boys' spirits high and deferring food to them.
Doctors said Saturday the coach, 25-year-old Ekkapol "Ake" Chantawong, has gained weight quickly and is physically well, but he is the one they are most concerned about protecting from any mental angst.
Two boys who are part of the team but did not enter the cave told ABC News before the rescue operation that "Ake" had taken them into the cave many times in the past as a sort of rite of passage and team-building exercise.
"You can't blame the coach and you can't blame the kids," Thongchai Lertwilairatanapong, public health inspector, said in Thai at a press conference Wednesday. "They have to help each other. We have to admire the coach that he managed well in this situation."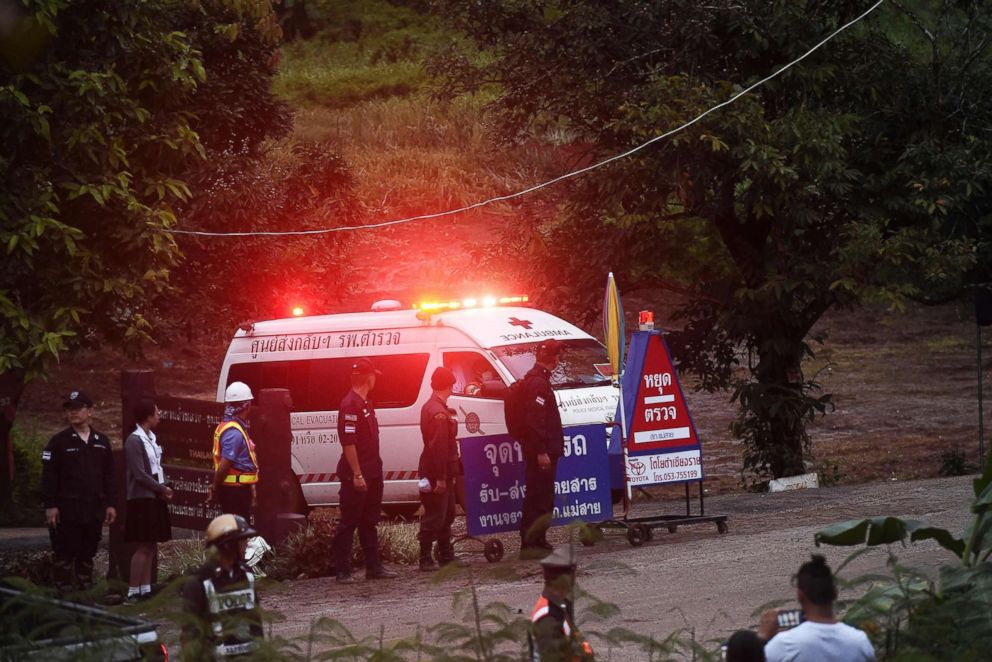 Each of the boys also sent brief video messages from the hospital, which were played at Saturday's press conference. The messages were similar, with each of the boys saying they were well and thanking rescuers.
One of the boys, 14-year-old Adul Samon, even sent his message in English, saying, "Hello, I am Adul. Now I am very fine. I am very thank you for help me. Thank you so much." He also took the opportunity to say he is looking forward to eating KFC once he gets out of the hospital.
The boys' coach thanked "every ministry that helped me" and the prime minister, Thai navy SEALs and the doctors.
The 12 boys and their coach entered the cave on June 23 and were unable to escape after heavy rain flooded the tunnels unexpectedly. It took 10 days before the boys were located and another week before the miraculous rescue broug ht each of them to safety.
Source:
Google News Thailand
|
Netizen 24 Thailand