From trash to triumph: the inspiring story of Thailand's Rocky Balboa


The Rocky movie franchise holds a rightful place in the annals of motion picture history. It is one of the best stories ever portrayed on the silver screen because of its ultimate underdog narrative. Its central character Rocky Balboa became the contemporary epitome of all those who persist in going the distanceâ€"determined to turn dreams into reality, and rise to success through perseverance.
Sometimes reel life turns into real life, as in the case of WBC super flyweight champion Srisaket Sor Rungvisai, whose life was laden with myriad seemingly insurmountable challenges.
Sor Rungvisai, whose real name is Wisaksil Wangek, did not have an easy childhood. He grew up in the Northeastern Thailand province of Sisaket, which is known for its charm and beauty owing to historical infrastructures and natural wonders. But for most people living in the province, the allu re of their surroundings provides very little to ease their day-to-day burdens. Like many other rural areas of the country, poverty is widespread in Sisaket, including the community where Sor Rungvisai was raised.
His family lived a hand-to-mouth existence. To scrape by, his father competed in Muay Thai, a revered combat sport in Thailandâ€"but he barely made enough money to provide for the family.
Despite the lack of faith from the people around him, Sor Rungvisai left his hometown at the age of 13 to look for odd jobs in the country's capital of Bangkok. "I decided to come to Bangkok because people mocked me, doubting how I could make a living," he remembered. "I came to prove that I could live by myself and provide for my family as well." I spoke with Sor Rungvisai last August and early this October, both times at the open workouts of ONE: Kingdom of Heroes in Bangkok.
Sor Rungvisai initially worked as a security guard and then took on the diffi cult, gritty work of a garbage collector. When the money was not enough to buy food, he searched for leftover food from the trash that he collected at a nearby department store. "On some difficult days, I had to collect the food from trash to cook and eat to survive because I did not have enough money," he shared. "I always found unwanted things that were not expired yetâ€"salmon, beef, and these kinds of foods. They were in packages. I just collected them, took them home, and cooked them."
To augment the family income, Sor Rungvisai then decided to follow in his father's footsteps by strutting his stuff in Muay Thai.
"As a young guy who didn't have the right qualifications to earn decent office jobs, fighting professionally was the only way I could get some money. It was also something I liked, and it was a fun challenge. I saw it as a way to help better my life and future," he said.
Unfortunately, things did not turn out as well as the then-struggling teenager had hopedâ€"his Muay Thai career was going nowhereâ€"and another opportunity presented itself in a different form of combat sport. Sor Rungvisai discovered professional boxing, the sport that could be his ticket out of poverty.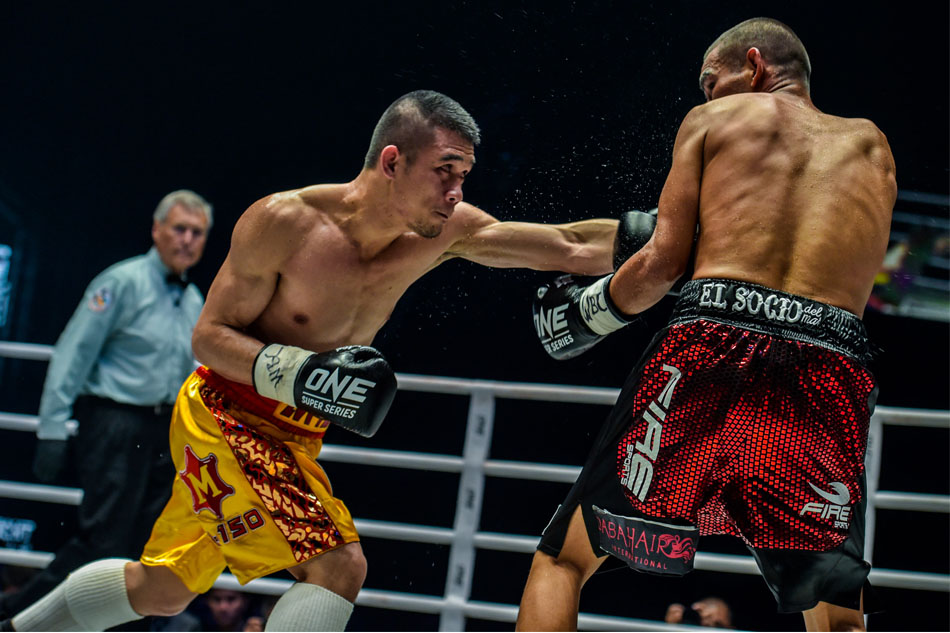 The next phase
"I got recommended by a guy to try boxing. I didn't like boxing that much back then because I thought it wasn't fun," he recalled. "[But] I needed the money very badly, so I accepted the fight even though I didn't have much time to prepare and didn't really know how to box. I just knew that boxing has similarities to Muay Thai."
The transition to boxing was not easy. He was knocked out during his first two bouts in 2009. So r Rungvisai was about to throw in the towel as a pugilist, but he thought of his family back home in Sisaket.
"There were only two paths to choose for me at that time," he's famously shared. "One was to become a boxer and the other one was to keep on working as a trash collector, and I chose the path to become a boxer because there's more hope at least. There's some hope in this career."
Due to his string of setbacks, there was the possibility that he could fall into a mediocre journeyman's careerâ€"but he had more pride in himself than to accept that he would. Sor Rungvisai did not post a win until his fourth professional match in November 2009 when he scored a third-round knockout over compatriot Prakaipech Aunsawan. After suffering another loss in the hands of Japanese fighter Kenji Oba in February 2010, Sor Rungvisai joined Nakornloung Promotion, a renowned boxing stable and promotion that has produced a fair share of Thailand's disting uished world champions in sports such as Suriyan Sor Rungvisai, Veerapol Nakornloung and Sirimongkol Singwancha.
"The third time I lost was in Japan. At the airport, I told myself I would never get hurt again. And it never happened again after that day," he said.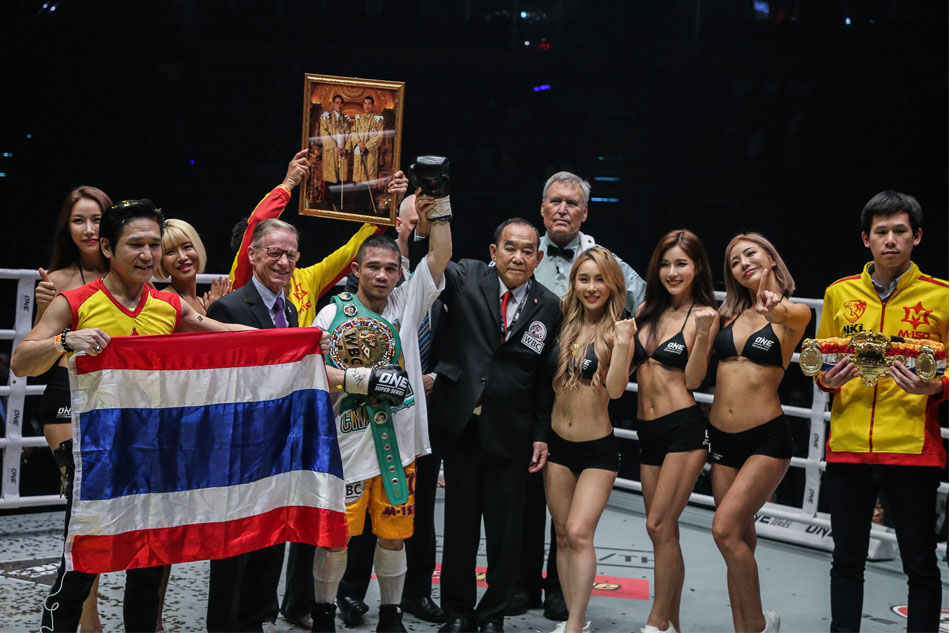 With solid backing from a high-profile team, Sor Rungvisai reeled off 26-straight victories, including an eighth-round stoppage of Japan's Yota Sato to clinch the coveted WBC super flyweight title in May 2013.
Although his impressive winning streak was halted by Mexico's Carlos Cuadras in May 2014, Sor Rungvisai swept another series of triumphs, winning his next 20 in-ring contests with 16 coming by way of knockout. During that remarkable stretch, Sor Rungvisai recaptured the WBC super flyweight belt by p ulling off a major upset win against four-division world champion Roman "Chocolatito" Gonzalez of Nicaragua via majority decision in March 2017.
Sor Rungvisai's astonishing conquest of Gonzalez earned him a spot in The Ring Magazine's globally-acknowledged pound-for-pound rankings, where he currently occupies the No. 8 seat.
"I never thought that I would come this far or even get to be a world champion. I only aspired to win a regional title and maybe get on television. I wound up doing so much more," Sor Rungvisai disclosed.
Sor Rungvisai cemented his position further in the international boxing scene by knocking out Gonzalez in a September 2017 rematch and then edging out Mexico's Juan Francisco Estrada via majority decision last February.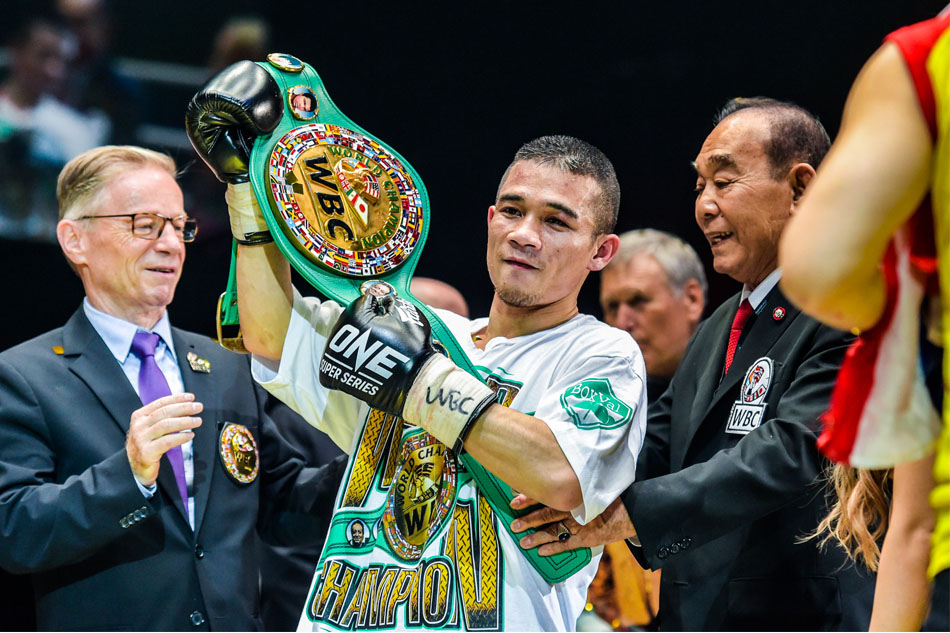 Being an inspiration
In front of his countrymen last Saturday, October 6, Sor Rungvisai made a jubilant homecoming, successfully defending his WBC super flyweight title in the main event of ONE Championship's "Kingdom of Heroes" card.
He outboxed Iran "MagnifiKO" Diaz en route to a unanimous decision victory after 12 rounds of boxing action as his masterful dismantling of the Mexican challenger thrilled thousands of fans in attendance at the Impact Arena in Bangkok.
When the announcer declared his name as the victor, his compatriots at the state-of-the-art showground erupted in euphoria, cementing his stature as one of the country's treasured figures.
Considering the lowest times in his life when he foraged for food in garbage heaps, to the heights he has reached as a boxer, Sor Rungvisai said he owes his success to the sport that gave him a second shot at life.
"Boxing has given me everything I hav e in life. I owe everything I haveâ€"all my successâ€"to boxing. It has helped me become more disciplined, and it has taught me the value of hard work," he explained. As he opens a new chapter in his professional boxing career, Sor Rungvisai hopes to become another shining example that diligence can help people realize their dreamsâ€"no matter their difficult past. "I know how difficult it is. I do not want people to be discouraged," said the boxer. "We cannot choose our lives, but we can choose to change it and work for our dreams."
Source:
Google News Thailand
|
Netizen 24 Thailand