Leicester City owner Vichai's funeral in Thailand under way

Leicester City owner Vichai's funeral in Thailand under way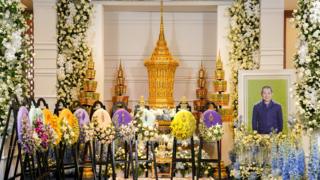 The funeral of Leicester City's owner who died in a helicopter crash outside the club's stadium is under way.
The funeral began with Buddhist bathing rituals at a temple in Bangkok, Thailand, and will be followed by recitation ceremonies over seven days.
Leicester City players are due to fly out to Thailand for the funeral later after their game against Cardiff.
Srivaddhanaprabha Vichai died with two members of his staff, the pilot and a passenger when the helicopter crashed.
It came down moments after taking off from the King Power Stadium on 27 October.
A bathing rite ceremony has started which will be followed by the beginning of the recitation ceremonies.
Jonathan Head, the BBC's South East Asia correspondent, is at the temple and said the ceremony was being held behind closed doors. He said elements of status at the funeral were very important.
"You will see during the funeral artefacts given by King Vajiralongkorn - a special funeral urn and also a five-tiered umbrella that is very high status - being used," he said.
He added: "People will watch the funeral in many ways to see how well thought of Vichai was.
"He was a successful businessman, but sometimes controversial."
Mr Vichai's body arrived in Thailand on Friday ahead of the funeral.
Nusara Suknamai, Kaveporn Punpare, pilot Eric Swaffer and his partner, Izabela Roza Lechowicz, also died in the crash last Saturday.
The wreckage of the helicopter was removed from outside the stadium on Friday.
The Air Accidents Investigation Branch (AAIB) has begun examining parts of the helicopter and the in-flight recorder.
Thailand's Deputy Prime Minister Prawit Wongsuwan, the manager of Thailand's women's football team, and the president of the Football Association of Thailand are among the guests at the funeral.
Leicester City are playing Cardiff this afternoon - their first match since the crash.
All this weekend's Premier League games will be preceded by a minute's silence and players will wear black armbands.
When Leicester fans arrived at the King Power Stadium before making the journey to the game in Wales, they were given free breakfast by the club.
Source:
Google News Thailand
|
Netizen 24 Thailand